Tournaments
Club Tournament Winners 2017
The Club Tournament Finals were held on Sunday 17th September and an appreciative crowd of spectators enjoyed plenty of action on the courts and the wonderful supply of refreshments off the courts.
Thanks to Ted Ardley for the superb organisation of the event. There were plenty of great matches played in the run up to the finals and it was brilliant to see lots of new participants (we have new Mens and Ladies champions) and one returning member playing for the first time in ten years (and going on to win in the Mens 60+ Doubles).
We also had a full schedule of Junior finals from U8 to U18 - there was lots of talent on show and the benefits of Tom's caching was clearly evident with some superb stroke play and fantastic rallies. Eliot (U16 winner) and Ashlie (U18 winner) had a very full day as they both went on to compete in the Senior finals winining Mens Singles, Mens Doubles, Ladies Doubles and runner up in Ladies Singles.
Junior Champions - U8 Noah; U9 Billy; U10 Billy; U12 Dan; U14 Zak; U16 Eliot; Boys U18 Alex; Girls U18 Ashlie
Ladies Singles Tash Kinsey beat Ashlie Night 6-1, 6-4
Ashlie came back strongly in the second set but Tash maintained her control of the match to the end.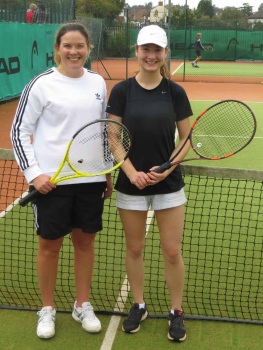 Ladies Doubles Lynne Meredith & Ashlie Night beat Marie Dakin & Caroline Coppin 6-0, 6-2
The power and consistency of Lynne and Ashlie was too strong for Marie and Caroline who were below form on the da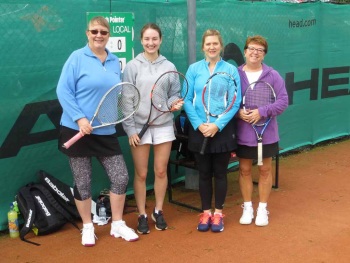 Mens Doubles Steve Ince and Eliot Morris beat Rob Dakin and Tom Meakin 6-1, 6-2
A much closer match than the score suggests but experience and youth proved a winner.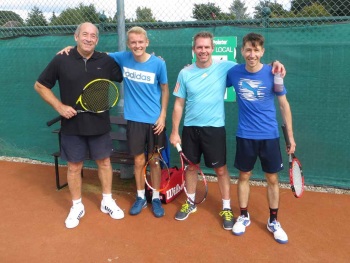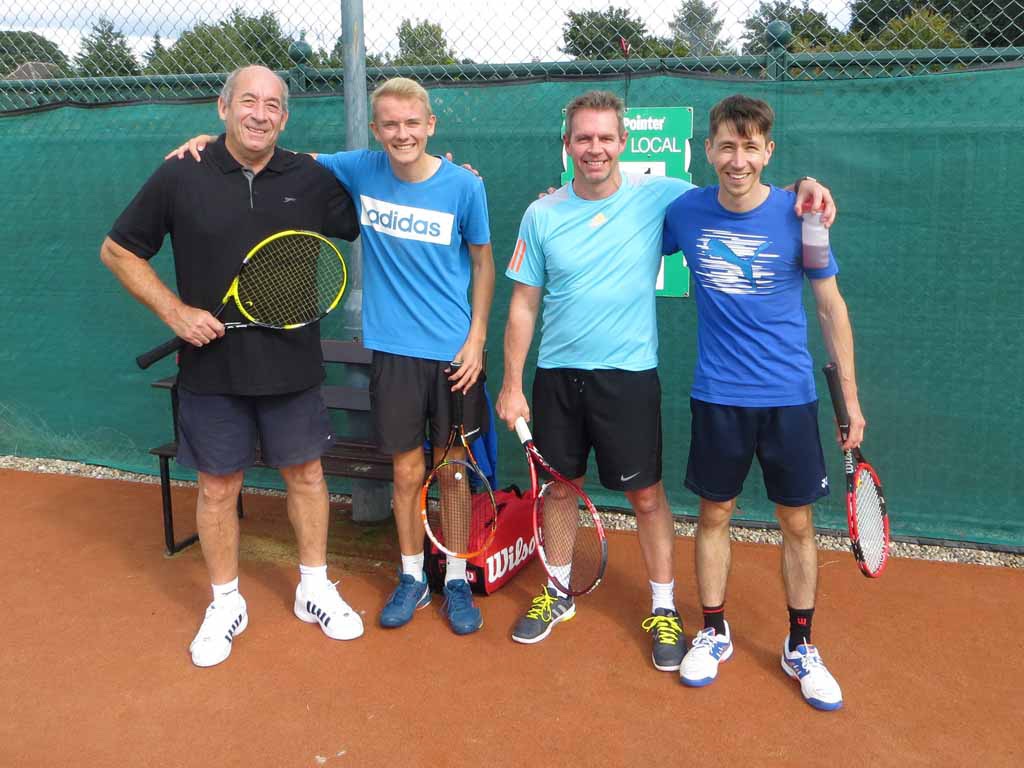 Mixed Doubles Rob Dakin and Lynne Meredith beat Andy Binks and Marie Dakin 7-5, 3-6, 6-3
What proved to be the closest and most entertaining match so far the family affair 'ding dong' could have gone either way.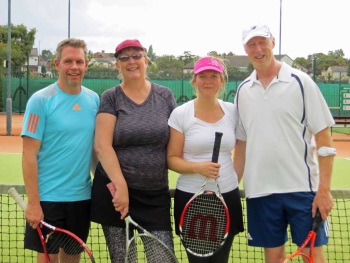 Mens 60+ Doubles Steve Ince and Alan Collins beat Tony Messiou and Dave Goodger 6-3, 6-0
Cunning and guile was the match trend from both sides along with the years of tennis experience and again the score did not reflect the true competitive nature of the match.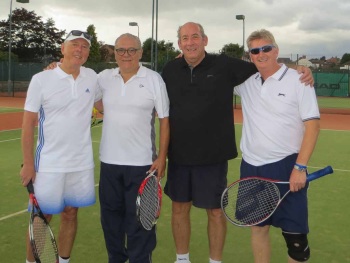 Mens Singles Eliot Morris beat Russell Dabb 7-6, 3-6, 6-4
After a late start and a long three set closely fought match Eliot finally won through becoming one of the youngest winners of this event at the age of 15. A good few spectators stayed on to watch to the end on a very chilly evening.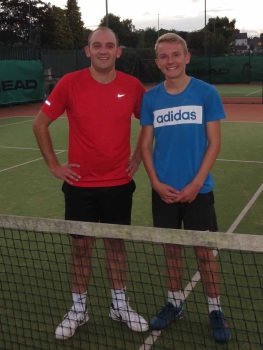 Club Tournament Winners 2016
The Club Tournament Finals were held on a sunny Sunday 18th September and all the matches were keenly contested.
Thanks to Ted Ardley for the superb organisation of the event, we coudn't have asked for better weather. Also thanks to Dan Fridlington, our master chef on the BBQ.
Our club champions are:
Ladies Singles - Sarah Freer
Men's Singles - Matt Stevenson
Men's Doubles - Matt Stevenson & Alex
Ladies Doubles - Liz Ardley & Sarah Freer
Mixed Doubles - Matt Stevenson & Lynne Meredith
Men's Veterans Doubles - Tony Lemmon & Steve Ince
Club Tournament Winners 2015
Men's Singles - Alex Reid
Ladies Singles - Sarah Freer
Men's Doubles - Andy Binks & James Ellison
Ladies Doubles - April Swann & Sarah Freer
Mixed Doubles - Steve Ince & Lynne Meredith
Men's Veterans Doubles - Mike Day & Tony Messou
Club Tournament Winners 2014
Men's Singles - Daniel Wilson
Ladies Singles - Marion Kranthaker
Men's Doubles - Alex Reid & Alex Carpenter
Ladies Doubles - Sarah Freer & Steph Osbourne
Mixed Doubles - Alex Carpenter & Jan Stokes
Club Tournament Winners 2013
Men's Singles - Fraser Ballantyne
Ladies Singles - Joe Brown
Men's Doubles - Matt Webber & Patrick Mann
Ladies Doubles - Mandy Foss & Chris Kingsley-Mills
Mixed Doubles - Rose Turner & Fraser Ballantyne
Annual Club Tournament Winners 1965 - 2013